There's something about a fresh and brand new watercolor set that is so beautiful and so satisfying!
This is so silly, but I purchased this Prima watercolors 12-pan set back when I had my bachelorette party (a watercolor for beginners party at a Paper Source store)—and that was back in September (it's been 5 months…). I didn't open it because I had grand plans to do an unboxing video (and made it out to be more difficult than it ended up being, tenfold).
Well, over the weekend I got my hands dirty so I could play with my new present to myself—finally!
Scroll down to see more photos and watch the unboxing video.
Each pan is individually wrapped in cellophane and then a layer of paper to show you what the color name is. It was a bit tedious to unwrap, but worth it in the end.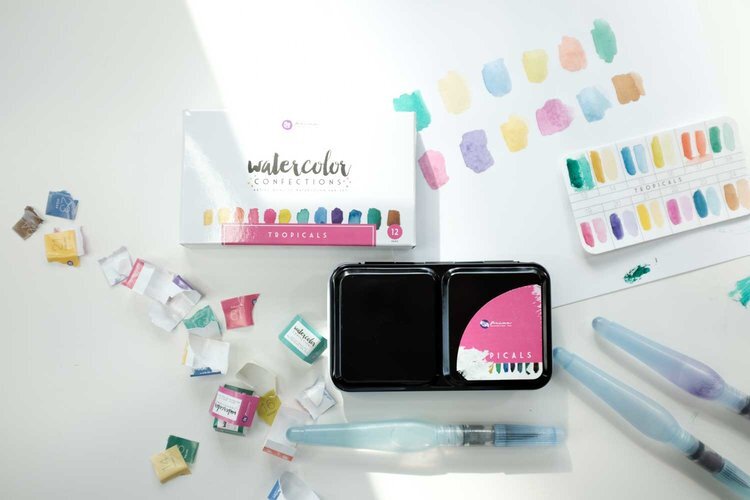 The tin itself is pretty darn cool because it offers three full areas for paint mixing—the top lid, the bottom fold-out lid, and you can even lift up the pans that are seated in a removable tray and use the bottom of the pan, too. It's a pretty versatile design for the package and would be easy to replace colors later down the road when they run out.
There's even a nice little metal loop at the back of the tin for those who paint on the go.
Quick recommendation: Don't try to peel off the pink Prima sticker on the front of the tin; it doesn't come off easily. I need to soak it in some Goo-Gone or something like that now.
The colors are beautifully saturated and offer a nice range of tints when mixed with more water. Overall the 12 pans offer a very nice range of fun, cheerful colors that all fit very well together.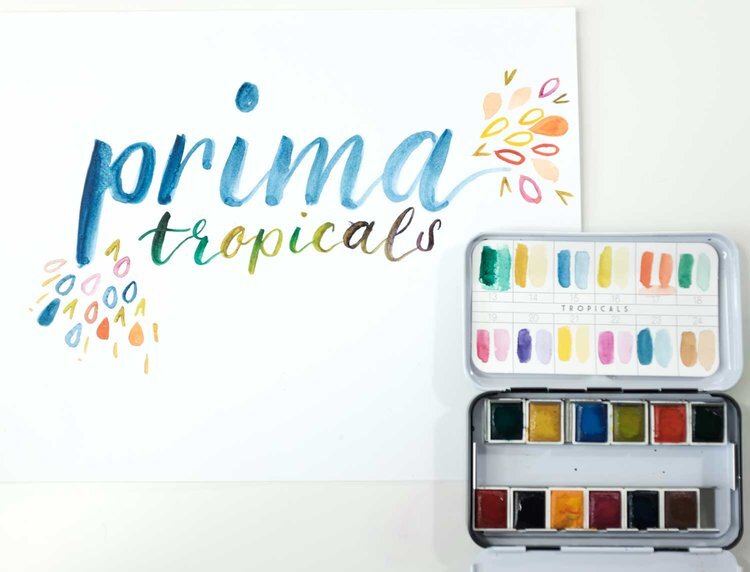 In the video I go into more depth about showing you which colors are similar to one another (there are quite a few) but I wouldn't say it would stop me from buying the set again.
Some of the colors seem a bit gloopy with their pigmentation, but none of the colors are chalky like less expensive watercolors can be. So it's just a trade-off.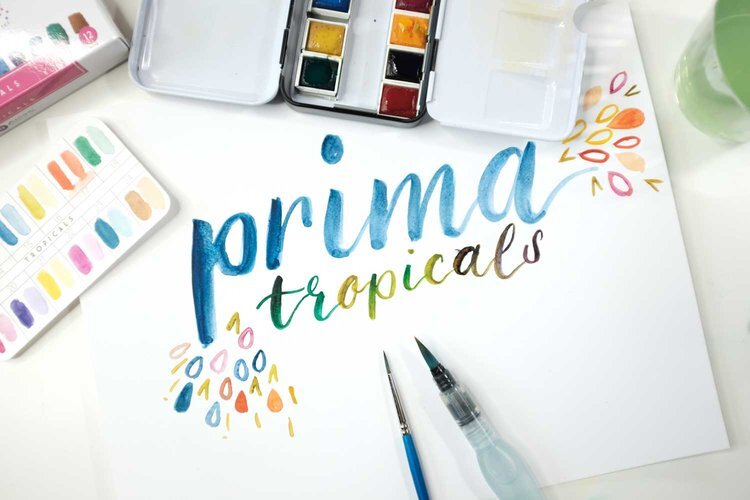 Overall I really like this set and can see it being the only set I travel with or throw in my backpack if I'm feeling artsy.
Here's the full unboxing video!
Please make sure to subscribe to the YouTube channel and hit like on the video. A whole list of art supplies and resources shown in this video can be found on my resources page.
Links to buy watercolor supplies
It felt so good to paint and letter over the weekend—I forgot how fun and relaxing it can be to put pen to paper and be creative in that way.
What are you doing for yourself lately to relax and unwind?