Ready for a post and video that will help you get more familiar with traditional brush pens for calligraphy and brush lettering?
In this post and video, I'll demonstrate 9 pens that are more traditional, meaning they were specifically made for brush lettering. Most of these pens only come in black ink, and they range in size from super fine to fine.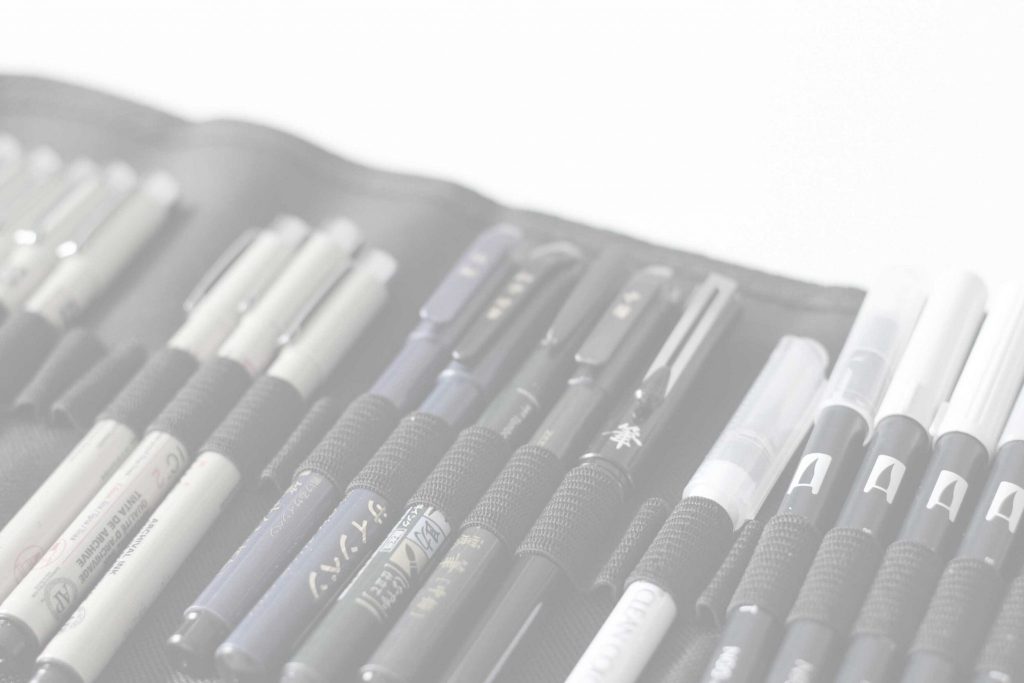 Below is the demonstration of each pen as well as photos and a basic summary of each of these brush pens. Enjoy the post!
Brush Pens for Calligraphy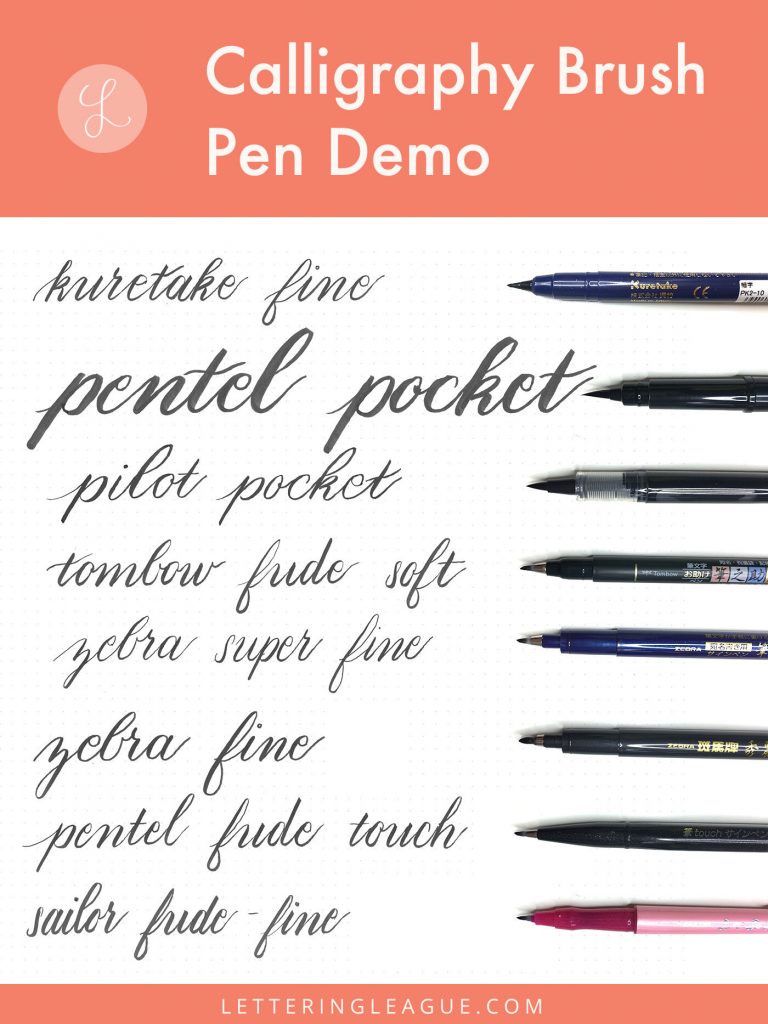 1- Kuretake Disposable Pocket Brush Pen – Fine
The Kuretake brush pen is really saturated and has okay elasticity for a felt tip marker.
2- Pentel Pocket Brush Pen for Calligraphy
The Pentel Pocket Brush Pen is a little more expensive than all the others, simply because it's refillable. I love the ink flow from this pen. Even though the ink isn't as black as some of the other pens in this post, it has a nice look to it.
3 – Pilot Pocket Brush Pen – Soft
This is undoubtedly my least favorite traditional brush pen, but I don't want to write it off (ha) completely.
Update: This pen seems to be discontinued; so don't get a case of FOMO!
The Pilot Pocket Brush Pen has a strange tip and when full pressure is applied on a downstroke, the tip of the pen doesn't stay flush to the paper and it actually lifts off a little. That said, this pen is great for illustration, and I'm sure it'd be better for calligraphy if I practiced with it more.
4 – Tombow Fudenosuke Brush Pen – Soft – Black Body
The Tombow Fude Brush Pen in Soft is a favorite amongst many calligraphers for many reasons. It has a wonderful ink flow, and the nib is soft but is easy to control. I love this pen for both illustration and calligraphy, and it is my #1 recommendation for anyone getting started with brush calligraphy.
In fact, this is the pen I used to create my ever-popular Paperweight Font!
5 – Zebra Disposable Brush Pen – Super Fine
The Zebra Brush Pen in Super Fine is another favorite of mine. The elasticity of the tip is great for my hand and I love how small the tip is.
6 – Zebra Disposable Brush Pen – Fine
It's funny—as much as I love the Zebra Super Fine, I really don't like the Zebra Brush Pen in Fine. The tip is completely different and has a much stiffer feel to it.
7 – Pentel Fude Touch Sign Pen
Here's another absolute favorite of mine. The Pentel Fude Touch pens are SO great, and it's the answer to everyone's wishes because they come in multiple colors. I love the tip elasticity of these, though keep in mind the tips will get much softer with use. These are the pens I've used in my Learn Brush Lettering videos on YouTube. They're a joy to use. When you buy these, make sure the listing says Fude Touch—or else you're just getting a pack of regular markers! I recommend picking these up from JetPens (note: JetPens sent me this set but the pens lived up to the hype—they made it to my top favorites).
8 – Sailor Fude Nagomi Brush Pen – Ryofuka Model – Fine
I love the pink body of the Sailor Fude i Fine—it helps it stand out from the other brush pens—and the pen is nice, it's just not one of my favorites.
Watch my Demo Video for these Brush Calligraphy Pens
Here's the video! Please don't judge my lettering too much; writing while recording is easier said than done!
Calligraphy Brush Pens Mentioned and Demonstrated In This Post:
Have you tried these pens? I'd love to know what you think or which ones you'd like to try—leave a comment below!