The tools don't make the artist. But some tools are just so kick-ass that you can't help but talk them up at every opportunity you get.
Enter the Pentel Arts Aquash Water Brush pen set. I've talked a lot about these before. Heck, they're in a lot of my recent Instagram video posts. When working with watercolor, I probably reach for these 60% of the time over regular watercolor brushes, even though traditional watercolor brushes are higher quality.
Why? Because they're so easy to use! Having the water in your hand gives you a lot of control over pigmentation and keeping your brush tip clean. Plus, they travel beautifully.
In this week's post and video, I'll show you exactly how I use the Pentel Aquash Water Brushes with my watercolor palette for watercolor and calligraphy.
Tips for Working with the Pentel Aquash Water Brush and Watercolors
Squeeze drops of water into your dry watercolor pigment to help "wake up" your palette.
Use the durable tips to help massage the watercolor pigment with water in order to stir your color.
Pull the colors you want to use into a mixing tray. This will help you control pigmentation and make it easier to re-dip your brush when switching colors.
Clean your water brush easily by squeezing water through the chamber while wiping off the tip on a paper towel.
When you're all done, make sure your brush tip is clean and the bristles are smoothed back into a point. This will help your water brushes last longer.
Even after you clean your water brush, the tips may look dirty. As long as the water comes out clear when you're wiping it off on a paper towel, the bristles are clean; they're just stained. No worries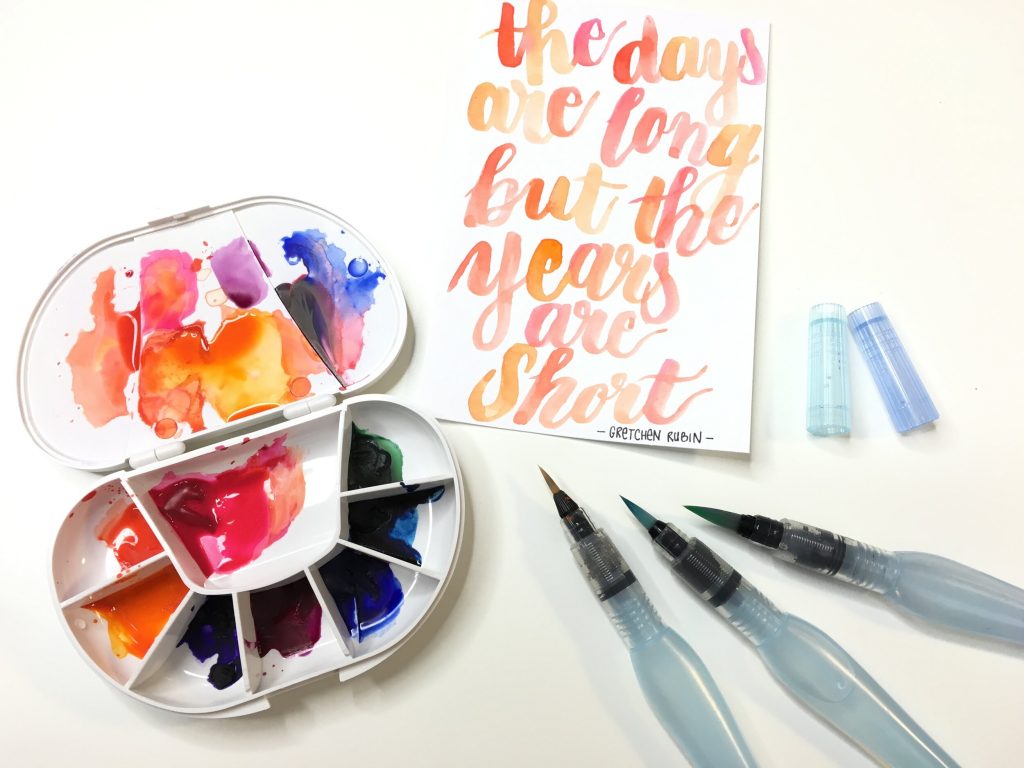 Tell me—do you own water brushes? What are your best tips for working with these tools? Comment below!