I'm doing something a little different today and sharing how I record and edit videos for Instagram and YouTube. I've gotten a few requests and wanted to show you my setup in case it would help you record fine art videos for your Instagram, YouTube, Facebook Lives, or more.
The Equipment I Use for Top-Down Art Demo Video Recording
Check out the video at the bottom for a demo of the tripod and an overview of my setup; otherwise all of the important info is below!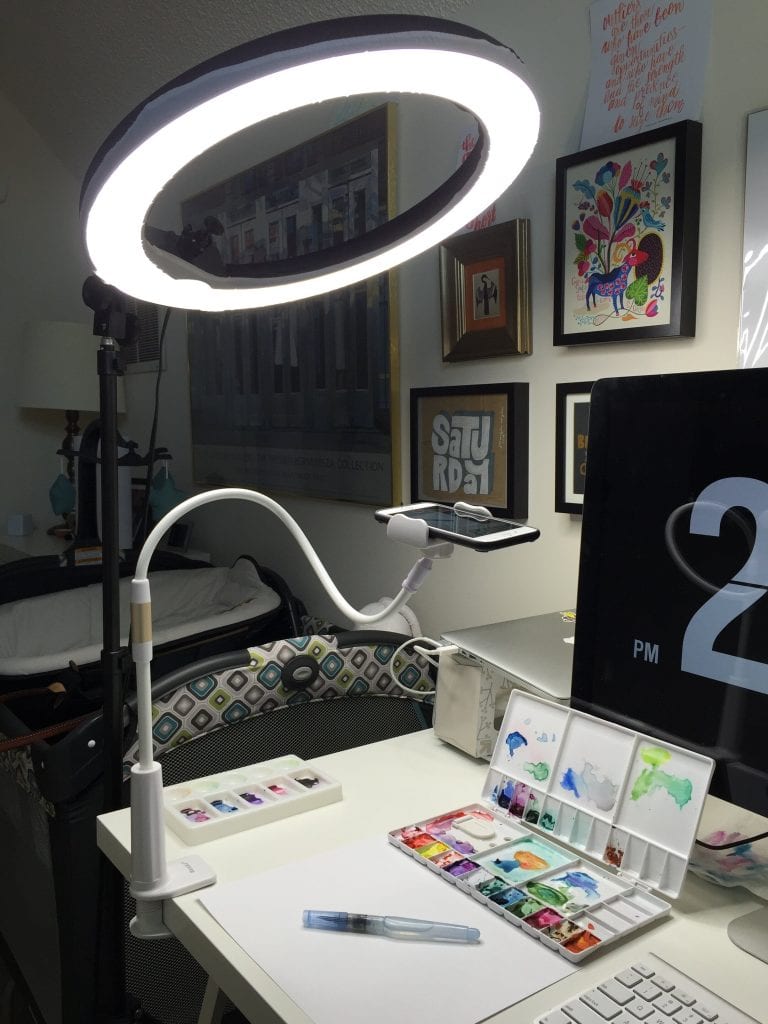 Video and Lighting Equipment I Use for Art Demo Videos
The Camera
When I originally wrote this post, I recorded all video with my iPhone 6S's camera (now I use my iPhone 8 Plus whenever I record video).
When I started recording demo videos for my first Skillshare class, I was using my iPhone 5S. You certainly don't need to go out and get a fancy camera or camcorder; just keep in mind that if you are going to use your iPhone or smartphone, make sure to use the rear-facing camera and not the front-facing camera. The quality will be a lot higher.
iPhone Holder / Tripod
For my "tripod": I use a Lazy Arm iPhone desk mount which is the biggest game-changer. The bendable arm is strong but pliable and doesn't jiggle around or slide out of place. I have it clamped to the edge of my desk and I can easily just stretch the mount and plop my iPhone in there to record.
Video Lighting
For video lighting, I use a Diva Ring Light on its brightest setting and mount it to a light stand.
I originally purchased the Diva Ring Light as a portable light for talking-head videos, but I find I use the light often as a daylighting lamp to work on art when it's dark outside, as well as to help me record brighter videos.
The whole system folds away pretty easily, which is good news for multipurpose spaces. (IE: My "office" is in my kids' room right now….)
Important note: The Diva Ring Light link above doesn't have the same bendable head mount like the one I use. There have been a few people that have an issue with this, so please do your research before purchasing!
Audio Microphone
When I record videos, I've used my in-box Apple EarPods to record audio. I now use my Apple AirPods. Plain and simple; no fancy microphone or lavalier lapel mic needed.
Recording Audio
If I have any videos that require audio-only, such as when I'm recording a voiceover for a slideshow or a demo, I will simply use Voice Memos on my iPhone with the Apple AirPods. The quality comes out surprisingly great!
Editing iPhone Videos for Instagram and YouTube
When I'm ready to edit my videos, I import the raw footage to my MacBook using AirDrop. (I'm too impatient to let it sync with Photos.)
Next, I'll create a new document in ScreenFlow (Mac only).
Instagram Videos
Since in-feed Instagram videos can only be 15 seconds long, I usually need to speed up the video so it fits within the time allotted.
I know there are apps I can use on my phone, but I like the control I get from editing it on my computer. (That said—if you're using any must-have video editing apps for Instagram, leave a comment below to help me out!)
Here's my process for editing in-feed Instagram videos:
Create a new document in ScreenFlow that is 1080px square.
Drop the footage into the document and right-click to detach the audio.
Delete the audio entirely from the project.
Slice the video so it has a clean beginning and end. Delete the trimmings.
Finally, speed up the video by double-clicking on the segment and increasing the speed until the remaining clip is at 15 seconds.
Export the video with H.264 video encoding at 3,000 kbits/sec.
Share back to my iPhone with AirDrop and post to IG.
How to Edit Videos for YouTube
YouTube videos are pretty similar to the above instructions. I create the document in ScreenFlow to be 1920px by 1080px, and then export the video with H.264 video encoding at 5,000 kbits/sec, and AAC audio encoding at 256 kbits/sec.
I also do a ton of other splicing and editing with YouTube videos, playing with B-roll footage, intro music, and outro branding.
Click to Read Video Transcript
TL;DR? Art Demo Video Recording Resources
Long story short, here's what I use for art demo videos:
I hope you found this post helpful! I am by no means a video expert, but these are the settings I've researched that work best for me. If you have video recording tips to share, please comment below!