You love the idea of hand lettering and calligraphy. But if your penmanship is embarrassing, how do you improve your handwriting so that you can create hand lettering art you're proud of?
You're definitely not alone in the poor handwriting category. Many people struggle with their penmanship and want to improve their handwriting as an adult.The good news? You can practice and improve your handwriting quickly.
In this post, we'll explore 6 steps to improve your handwriting as an adult, including:
Analyze your handwriting

Write more

Focus on consistency

Experiment with writing utensils

Learn traditional calligraphy

Practice—a LOT.
Continue reading for more details on these steps to improve your handwriting!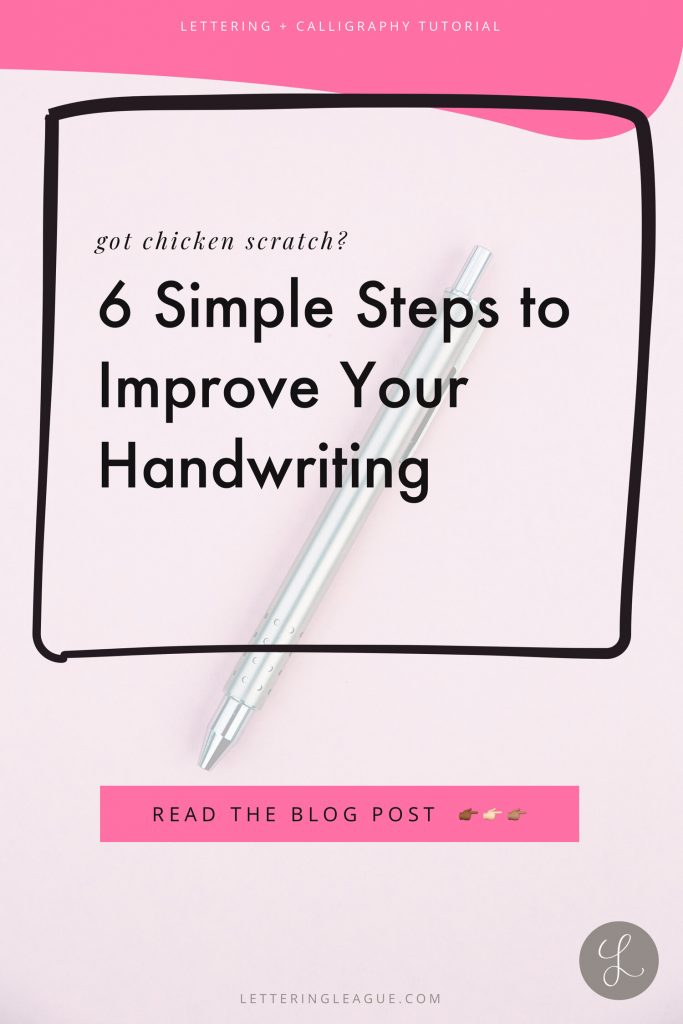 First Things First: Why You Might Want to Improve Your Handwriting as an Adult
Maybe you're looking to monetize your hand lettering hobby, or maybe you just want to be able to send a handwritten thank you note that looks like it was written by an adult.
You might even be experiencing judgment from coworkers if your handwriting is illegible or looks like a 5-year old did it.
Improving your handwriting will not only make your writing legible, it will also bring about confidence in your work. As a result, you'll also be taken more seriously.
And if you're on this Lettering League site, chances are you might want to improve your coordination so you can use your penmanship to:
Create a bullet journal that is post-worthy

Master your hand lettering skills

Have more hand control when drawing
Improving your handwriting does take LOTS of practice, especially focused practice. Most importantly, you will need to slow down—even the best hand letterers and calligraphers take their time when working on their craft!
First, analyze your handwriting
Before you can improve your handwriting, you first need to do a full audit of your writing.
Write a paragraph or two on paper by copying some text out of a book or from your phone. The more you write, the more you'll be able to see patterns (good and bad). Take your time, but also try to write at your normal pace.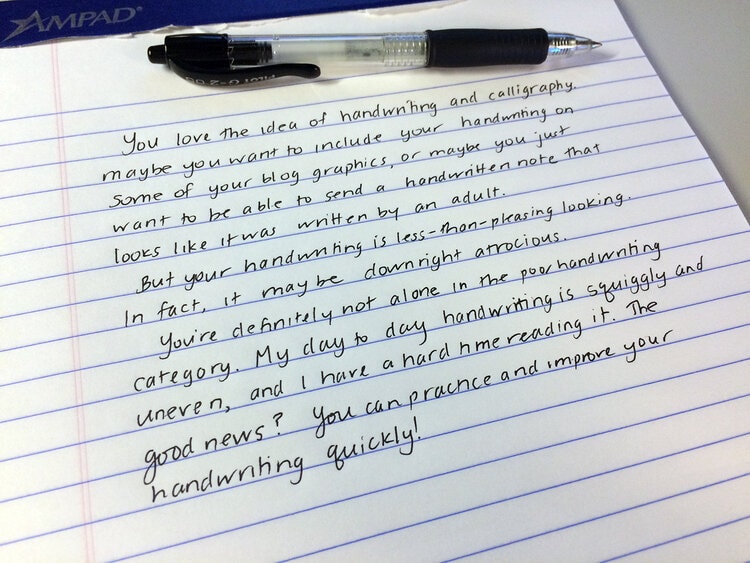 Once you're done, you can start to analyze some things about your writing that you wish to improve:
Spacing: Spacing between letters should be consistent, and spacing between words should also match up!
Slant: Does the slant of your letters match, or is it all over the place, tilting left and then tilting right?
Style: Are your letters formed the same, or does your style go all over the place?
Height of letters: The heights of the lower case letters should all match up, and same with upper case letters.
Consistent baseline for letters: Do your words line up on the bottom, or does it bounce around and go astray?
Closing counters: I'm totally guilty of this one… when rushing, do you leave your O's and similar letters open?
Dotting your i's: And cross your T's… blah blah blah.

etc
Once your hand recovers from writing so much (ouch!) try writing the same passage again, paying attention to what you want to improve. Here you can see improvements in my writing already. Sure, it took me longer, but the payoff is worth it!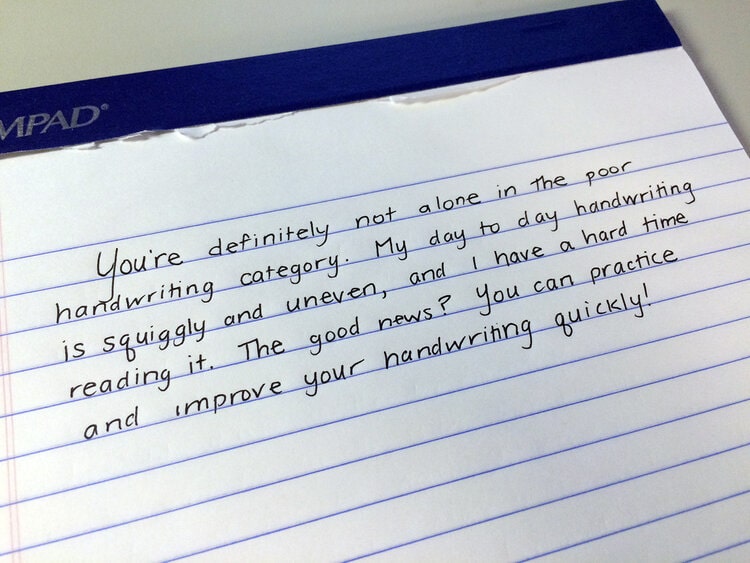 Improve your handwriting by writing more
As a digital society, we tend to stick to our computers and phones when writing notes and emails. Our hand muscles for writing and drawing are going unused! Muscle memory is important for anything we do, even writing with pen and paper. If you don't have regular practice, you're going to have a harder time writing neatly.
Taking 10-15 minutes each day to write neatly and slowly can vastly improve your handwriting. Schedule time into your calendar to write a page or two (like right after a meal or when you wake up). Write as neatly as you can, about anything. Maybe even kill two birds with one stone by keeping a daily handwritten journal.
I personally have managed to vastly improve my handwriting as an adult by journaling and taking notes on my iPad Pro.
Focus on Consistency to Improve Your Handwriting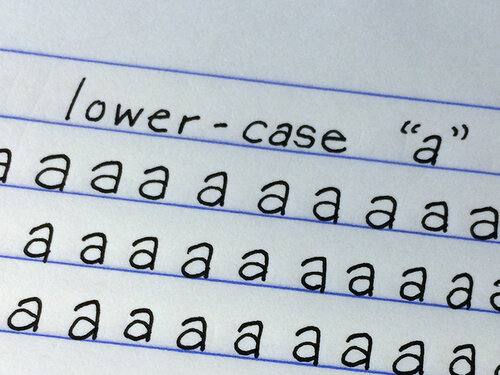 Consistency is key. No matter what style you practice of your own handwriting, whether it's cursive or not, you want to find a set of letter styles that you like to write and that look good together.
Practice with varying slopes and angles, heights of your letters, roundness of letters, etc. Once you start to see a style pattern in your handwriting, practice the same letter over and over again (literally fill one page with a's and then the next with b's) until you start to feel comfortable.
For slants, you can even create your own angled calligraphy guide and place it under your paper to practice.
Experiment with Pens and Writing Utensils to Maximize Your Handwriting Improvement
There are seemingly countless brands and types of pens and writing utensils available. It's up to you to find the style of pen that works best for the level of control, line thickness, pressure, and preference you prefer.
For example, some gel pens are too slippery and move too fast. A super fine pen may not work for someone with a heavy hand. Cheaper ballpoint pens may be clumpy and messy.
For basic handwriting, I prefer fine felt tip markers over any other type of writing utensil, because they provide more friction on the paper and help me slow down. You can even practice with an old fashioned #2 pencil in order to help you slow down to improve your handwriting.
Recently, my favorite pens for beautiful handwriting include:
Learn Traditional Calligraphy to Improve Your Handwriting Skills
I know this seems counter-intuitive. It's like I'm telling you to run before you can walk. However, I saw vast improvements with my hand lettering after I studied calligraphy. Learning how to form letters traditionally can help you understand consistency and anatomy.
My recommendation: learn basic strokes of brush calligraphy.
Grab a calligraphy book that isn't for pointed-pen calligraphy (I recommend Calligraphy for Dummies) and a $1 grid composition book or cheap graph paper. Studying this book helped me slow down (super important!!) and focus on consistent letterforms.
Finally, Practice. Practice. Practice.
I can't stress how important regular practice is! If improving your handwriting sounds like a chore to you, try to make it fun:
Journal daily—with pen and paper.

Write letters to your friends (because really, everyone would love to receive a handwritten letter!).

Write out your grocery list as neatly as possible.

Leave handwritten notes in your kids' lunches.

Take notes—even sketchnotes—when listening to a podcast or watching an educational YouTube video.

Start a bullet journal.
Even if you can't dedicate time to daily practice, make it a point to write neatly for everything you write down—notes at work or school, filling out forms, etc.
All in all, slow down, pay attention, and work to find the handwriting style that is best for you, along with your preferred pen type and paper combination.
What are some ways you're going to try to improve your handwriting?